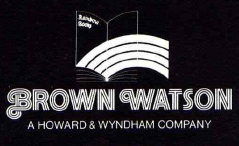 Brown Watson is an independent British children's book publisher.
In 1978 it published Logan's Run Annual, with comics and articles based on the television series. The cover featured Gregory Harrison and Heather Menzies as Logan 5 and Jessica 6.
Ad blocker interference detected!
Wikia is a free-to-use site that makes money from advertising. We have a modified experience for viewers using ad blockers

Wikia is not accessible if you've made further modifications. Remove the custom ad blocker rule(s) and the page will load as expected.