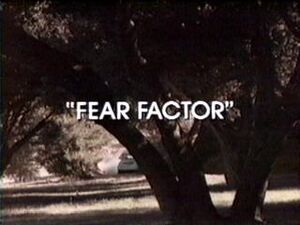 Fear Factor is the eighth episode of the Logan's Run television series. It first aired 14 November 1977.
Summary
Jessica gets strapped to a reprogramming table and had her mind messed with. Pictures of that appeared in quite a few books and magazines. The concept of an insane asylum taken over by the inmates made for some chilly viewing.
Guest Cast
Ad blocker interference detected!
Wikia is a free-to-use site that makes money from advertising. We have a modified experience for viewers using ad blockers

Wikia is not accessible if you've made further modifications. Remove the custom ad blocker rule(s) and the page will load as expected.