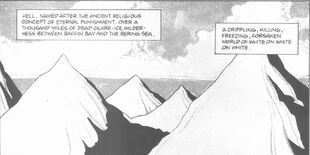 Hell
Hell: named after the ancient religious concept of eternal punishment. Over a thousand miles of dead glare-ice wilderness between Baffin Bay and the Bering Sea. A sharded tumble of floes and bergs and nightmare crevasses, of daggered ice cliffs and howling glacial frost winds. A crippling, killing, freezing, forsaken world of white on white on white. Hell: fourteen burrows in an irregular semicircle on the lee side of a storm-carved berg. Each cramped ice cell clawed from the iron surface by dying, lonely men and women working in subzero cold. Near the entrance to one hide-hole was a rich red stain on the ice glass, where an unknown convict had lung-hemorrhaged under the refrigerated glare of the midnight sun.
Ad blocker interference detected!
Wikia is a free-to-use site that makes money from advertising. We have a modified experience for viewers using ad blockers

Wikia is not accessible if you've made further modifications. Remove the custom ad blocker rule(s) and the page will load as expected.