Soundtracks and other audio media
The movie  score was composed and conducted by Jerry Goldsmith, with orchestrations by Arthur Morton. The score "adheres to two distinct sound palettes: strings, keyboards and abstract electronics only for cues inside the City, and full orchestra for Outside." The first release of portions of the score was on MGM Records on LP, in 1976. The complete expanded and newly remixed score was issued on CD in January, 2002 by Film Score Monthly.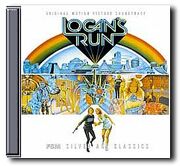 "Logan's Run Soundtrack Jerry Goldsmith"
The Dome/The City/Nursery 3:05 Flameout 3:23 Fatal Games 2:26 On the Circuit 3:49 The Assignment/Lost Years 5:59 She'll Do It/Let Me Help 2:41 Crazy Ideas 2:38 A Little Muscle 2:22 Terminated in Cathedral 1:28 Intensive Care 3:00 Love Shop 3:43 They're Watching/Doc Is Dead 2:45 The Key/Box 4:22 Ice Sculpture 3:35 The Sun 2:15 The Monument 8:12 The Truth 2:03 You're Renewed 2:58 The Journey Back/The Beach 1:36 Return to the City/Apprehensions 2:30 The Interrogation 3:58 End of the City 2:23 Love Theme From "Logan's Run" 2:27
Total Time: 74:18
Other Audio Media